Hello,
I recently bought a 5.1 surround system set from Trust (Trust GXT 658 Tytan). The sound is amazing but I recently noticed that ALL of the speakers use the same channel, which is the front channel. I noticed this because the actual front speakers barely produce any sound (another issue ...)
Now when I test the speakers in the Realtek HD Audio Manager and I click on the front left speaker for example, the sound comes out ALL speakers except for the front speakers .... like what? This is highly annoying because I can't create a true surround sound experience like this, the front speakers are just .... sitting there.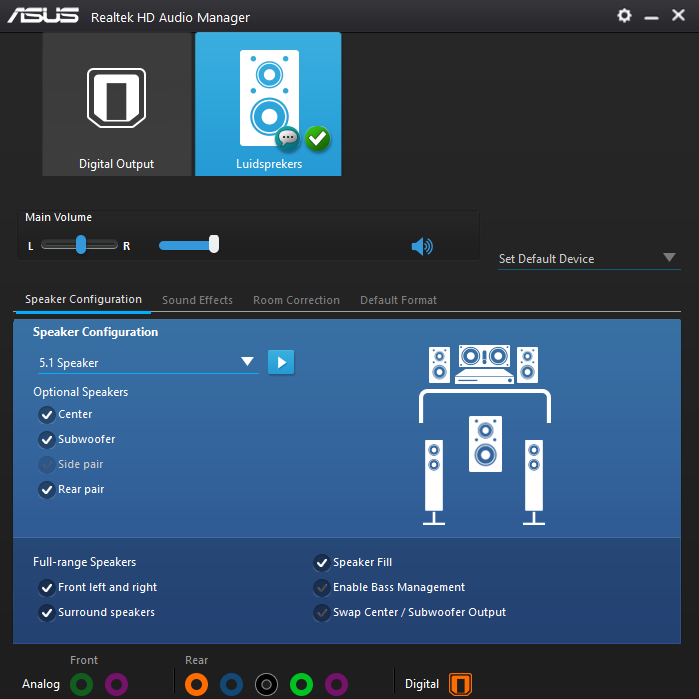 This image, if I click on any speaker the sound will play out of all speakers, the only ones not working are the Subwoofer and front speakers (the subwoofer does produce good base and sound but it does nothing when I press on the test button). The same thing happens in the Windows settings, it's set on 5.1 but when I click on 1 speaker to test it all of them make a sound except the front speakers.
So can anyone help me with this? The main issue is that the speakers are not using their proper channels. I updated the drivers, checked if all cables were in the right ports (like 3928 times) and I have been googling for over 3 hours .. I got tired of it and that's why I decided to come here). I disabled all HDMI sound thingies and I removed my headset.
Thanks in advance!
(edit, my motherboard is the TUF X299 MARK 2 from ASUS, which does support 5.1)