Hi, this problem started happening just today, but it's really annoying. Certain programs when I try to open them immediately crash.
It first happened with Clover, so I uninstalled it and now I'm able to browse files with normal Explorer, but when I open some programs like Malwarebytes I get this error:
Problem signature:
Problem Event Name: BEX
Application Name: mbam.exe
Application Version: 1.0.0.532
Application Timestamp: 53518532
Fault Module Name: StackHash_5861
Fault Module Version: 0.0.0.0
Fault Module Timestamp: 00000000
Exception Offset: PCH_6F_FROM_ntdll+0x0003D2EC
Exception Code: c0000005
Exception Data: 00000008
OS Version: 6.3.9600.2.0.0.768.101
Locale ID: 1033
Additional Information 1: 5861
Additional Information 2: 5861822e1919d7c014bbb064c64908b2
Additional Information 3: d1d9
Additional Information 4: d1d94a13d3609d6b740644c12508f581
I haven't found a pattern as to what programs have the issue, but I checked inside my PC and all of the SATA cables are in place, and the drives are viewable in Explorer.
In addition, whenever I try to download something my browser crashes. I tested it with both Opera and Chrome.
I ran CCleaner for both the registry and disc, but that did nothing of course.
BTW here are my PC Specs: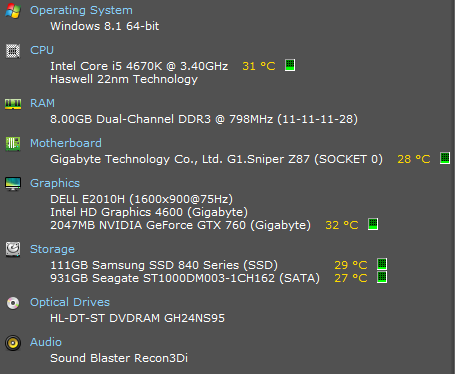 Help is much appreciated, I have no clue how to fix this.