Hello guys,
So I got 2 old laptops that got pretty slow and a bit hot.
I decided to both get them an ssd (I have to remove the old HDD to apply this), clean the dust inside them, and to reapply the old thermal paste with a newer and better one to eliminate heat and make them boot and run faster. I wont be making them the primary laptops, I just want them to store and run small documents and browse the internet smoothly.
My 2 laptops are:
1- HP 8470w
Here
2- Lenovo G40
Here
Since I want to go budget on this upgrade, I was initially going to get 2 (120gb) SSDs from the cheaper ones just enough to get the speed of an SSD over an HDD, and not the BEST SSD. then I thought about it that Windows gets a huge portion of the space, and figured I got to make space for future things. So I settled to get 2 (250gb) SSDs.
I thought about this SSD since it is not that expensive and is from a good reputable company since I do own an SSD for my PC rig from more than 3 years and running excellent.
https

/www.amazon.com/Crucial-MX500-250GB-NAND-Internal/dp/B0781VSXBP/ref=sr_1_1_sspa?s=pc&ie=UTF8&qid=1532346674&sr=1-1-spons&keywords=250gb+ssd&psc=1#customerReviews
So about the SSD, I dont have much info about the installation. should I just get an SSD device and plug in the HDD place simply or should I purchase another bay or adaptor with it?
And about the SSD itself, what is the best budget quality SSD for my budget and slow laptops to replace the HDD? I dont want to pay too much over a small portion of speed obviously because I wont notice anything and wont need it. I just want enough speed and performance to make me relaxed and notice a huge difference from an HDD. I will be purchasing from Amazon.
Also, I need a good quality thermal paste to replace the few-year-old thermal pastes on both laptops. Is getting one thermal paste enough to apply it in both laptops?
I will place a link to give you an insight of the disassembly of both laptops just in case.
HP: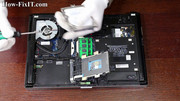 Lenovo: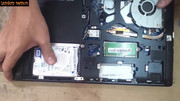 Thank you!