[To Mods: I'm sorry if this is double posting, Laptops and Notebooks seems much more popular than Mobile Computing. If you have to delete one post, delete the other one please.
Killer Notebooks Executioner Review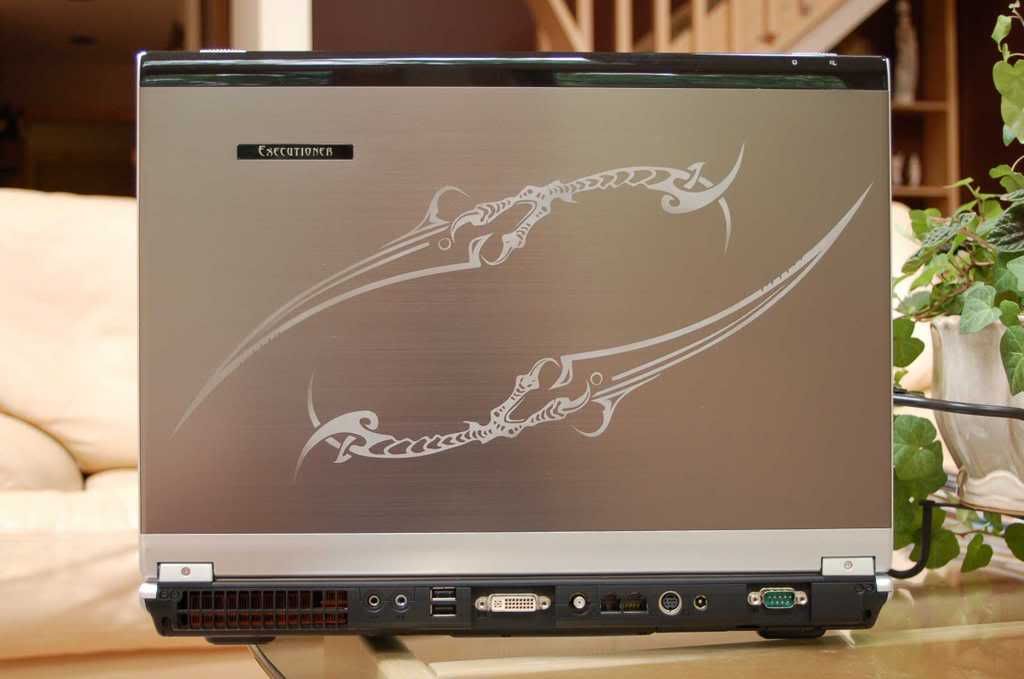 My Configuration
Screen: SXGA+ 1680 x 1050 Glassview
CPU: T7400, 2.16 Ghz
RAM: 2 Gb, DDR2-667
GPU: Nvidia Go Geforce 7950 GTX 512MB, Overclocked from 575/700 to 605/770
HDD: 100 Gb, at 7200 RPM
Optical Drive: Dual Layer DVD Burner, 8X
Wireless: Intel a/b/g/G+ 108 Mbps
Pre-Purchase
My experience with Mark (owner of Killer Notebooks) was great. I exchanged probably something around 50 emails or so with him, about all kinds of technical information related to his laptops. He always replied promptly to my emails (usually within a few hours, including once at 3 AM in the morning!). His answers were always knowledgeable, and helped me trust this small company that not many people have heard about before. Because I was making such a large purchase (I've worked for half a year saving up for this, you can consider me a poor university student), knowing that Mark actually cared was great.
Purchase
The purchase was done over a series of emails detailing what I wanted, including the tech specs of my laptop, and the image I wanted branded into the cover. It was very quick and easy. There are payment options of both credit card and Paypal, for those who want to do it online.
Shipping
The laptop took approximately 2.5 weeks (from ordering) to ship to Ottawa, Canada. The time taken to ship to me was much longer than the accounts I have read of other people's experiences with Killer Notebooks. I believe this was my fault, because I literally ordered a day before he was scheduled to move his business to a new city. Taking into account the ensuing chaos and that I ordered my notebook to be customized, the delay isn't unreasonable. It was shipped with USPS Global Priority, and once shipped, it got here in 5 business days.
First Impressions
I opened up the much anticipated box to find that the laptop was well protected. It was sandwiched between two pieces of foam and bubble wrap (the big bubble wrap, not the small stuff). In addition to this, the box was filled up the brim with foam peanuts. Unpacking all that was fun
. The laptop came with a bag (it shipped strapped inside of the bag, which was placed inside the box). The bag is decent, messenger style, with an outer pocket to put the AC adaptor and other stuff in.
Opening the bag up, I finally got my first glimpse of my laptop. It was a beautiful thing to look at. The first impression most people got when they saw my laptop was "wow". The aluminum cover is not quite reflective, yet not quite matte, and catches the light very well. The branding job is very well done, though it was slightly darker in some spots. This is caused by imperfection in the aluminum cover itself, and can't really be avoided.
The rest of the laptop is also impressive, and it just feels like quality. It's hard to explain, everything just fits together well, and it doesn't have that cheap look that a lot of laptops out in the market right now have.
Cover/Lid
As I have said already, the cover of the laptop is just awesome. The aluminum seems to catch the light around it. In darker areas, the cover can look almost black, mostly when you view from an angle, but in bright areas, it can almost looks silvery-gold, like in the picture above. The aluminum does have a few millimeters of flex is you push on the top of it, but only if you apply a decent amount of pressure. The lid itself also has a bit of flex, but this is expected of such large screens. It does not, however, feel like the lid is going to break. It has a sturdy construction to it.
Screen
The screen of my laptop is 17", 1680 by 1050, glossy. It is very beautiful to look at, has sharp colors and it's bright. There are no dead pixels whatsoever, and even if you did happen to find one, Mark has a 100% no dead pixel policy, unlike many makers who require you to have some 15 dead/stuck ones in the middle of your screen before they do anything.
The screen is very reflective, and can act like a mirror, so it depends on what kind of person you are. Some people can tune out the reflection mentally, while others prefer matte screens (also available I think).
Keyboard
The keyboard features full sized keys, and even includes a keypad on the right hand side of it. The keys are full sized, have relatively deep keystroke, and almost feel like they are from desktop keyboard. They are finely textured to give better grip. The keypad on the side is also of great use, mostly for someone who punches in a lot of numbers. It is to be noted that the keypad is different from normal ones in that it only has 3 columns instead of 4, and has an extra row at the top to compensate.
Touchpad
The touchpad is also finely textured, and has a scroll bar region at the right side of it. It seems fairly average to me (an inexperienced touchpad user :lol: ), but it is quite accurate. The two click buttons are shiny aluminum and have a nice clicking feeling. The directional pad is used for document scrolling, and also has that good click sound/feeling. Personally, I prefer to use a mouse (since I usually keep the Executioner on a desk) so I don't need the touchpad that much. Note that you can disable the touchpad entirely by pressing Fn-F1.
Media Controls/LCD Display
First, the LCD display. It is a nice bright display, and displays a lot of useful icons (like battery status, caps/scroll/number lock, wireless card activated etc.), as well as military time. The time is a nice feature of course, mostly if you're gaming into the night and you want to know when you should sleep to catch that 8:30 class in the morning. Although it is bright, it's not so in the intrusive way. The screen for the display is nice and clear, and like I've said before about the computer, seems to exude quality.
The media controls include the following buttons:
- On/off to play media while the computer is off
- Volume up/down
- Track Repeat
- Go back a track
- Go forward a track
- Play/pause
- Stop/eject
The media controls are pretty intuitive and useful. They also work while the computer is booted up and in Windows Media Player.
Sound
The sound on the computer is provided by 2 speakers on either side of the case, and by a small subwoofer on the bottom of the notebook. It sounds good for a laptop sound system, and doesn't have that tinny sound associated with many laptops. However, one may consider just using headphones, or investing in a good set of speakers. Not that the speakers on the laptop are bad, but if you plug in with more powerful speakers, you get that bass that we all know you crave.
Ports
There are many ports on the Executioner, some more useful to me than others.
Right side:
- Headphone Jack
- Microphone Jack
- Express Card slot
- 4-in-1 Media Reader
- Mini-Firewire (IEEE 1394)
- 2x USB 2.0
Rear:
- S/PDIF Out
- Line-in jack
- 2x USB 2.0
- DVI-Out
- TV Tuner in (use only if you got the TV Tuner card)
- Modem jack
- LAN jack
- S-Video out
- Serial Port
Left Side:
- Kensington Lock Slot
- Optical drive
Fan Noise
The fan noise is decent for a laptop of such power. They're to be expected when you're powering really hot components like the 7950. To me, they seem to run in approximately three settings that I can detect.
Idle/Almost idle: At this level, the fans are barely audible. There's a whisper sound of moving air, but you can't actually hear the fans. You don't often hear this, mostly during boot up and just after it. Because you're obviously going to start using your laptop immediately, which means the CPU will heat up, and the fans will kick into…
Medium mode: This is what you'll most often hear. You can hear the fans going, and the air being pushed out. It's not too intrusive, but it's kinda high pitched. Not like a whine, really, but it might get a bit annoying if you're in a quiet library and people are studying. However, it is a sound you can tune out, so it depends on the person.
Performance mode: This is the sound you hear when you're playing Oblivion. The max fans are rather loud, and you can really hear them. Again, you can tune it out, but playing games in a library full of studying people may quickly get you kicked out. It can be drowned out by the sounds of games, but I'd suggest using headphones. I use Shure E2Cs, which act like earplugs with music, so I'm perfectly fine with it. Mostly when I can crank games up to max. In a loud environment, the sound isn't that noticeable. You can lock fans into this mode with the Fn+F2 command.
In general, this laptop isn't quiet. It's kinda loud. But not in a high whiny 5mm fan running at 3 trillion RPM kind of way, it's something that you can tune out.
Performance
And now, what we've been waiting for. Performance stats! This is running on my setup, which includes the overclocked 7950 GTX at 605/770.
3DMark05 (at 1024*768, no AA/AF): 10091 points
3DMark05 (at 1680*1050, no AA/AF): 8041 points
PCMark05: 5893 PCMarks
FEAR Benchmark (1024*768, maxed, 4XAA, 16XAF):
Min: 44
Ave: 86
Max: 208
FEAR Benchmark (1280*800, maxed, 4XAA, 16XAF):
Min: 39
Ave: 71
Max: 163
FEAR Benchmark (1680*1050, maxed, 4XAA, 16XAF):
Min: 27
Ave: 47
Max: 101
Oblivion Outdoors (1680*1050, all effects on, draw distances at about 75%)
Min: 24
Ave: 43
Max: 60
*This was with HDR enabled, but no AA
If you have additional requests for benchmarking (has to be reasonable), I'll see if I can do them for you. But remember, this isn't my full time job, so I can only handle a few of them. I will update with 3DMark06 later.
Temperatures
CPU: The CPU idles at approximately 32 degrees Celsius in a normal room. When under 100% load on both cores, the CPU has never broken the 65 degree C limit on my laptop. In gaming, the CPU really isn't subjected to 100% load, the temps maxed out at about 52 degrees while playing Oblivion. Both temperatures and loads are done with the Intel Thermal Analysis Tool.
GPU: The GPU idles at approximately 44-45 degrees C. When playing Oblivion, the temp jumped up to about 77 degrees for a few seconds, then settled down to approximately 72 over the course of the playing time while outdoors. This temp is measured using RivaTuner.
Basically, for a gaming monster, this laptop runs surprisingly cool. On low power tasks, you can use this on your lap, but make sure your right knee does not block the main fan intake. Yes, the bottom of the laptop can get hot during gaming, and the shiny panel that the power and hotkey buttons are on also warm up considerably. It must be noted that these are the place directly above and below the 7950 GTX, so that would probably explain it. After hearing things about laptops hitting over 80 degrees C playing games (*cough* M1710 *cough*), I'm rather pleased with these results.
Battery Life
Ah, battery life. The bane of all gaming notebooks. Yes, it's true, you shouldn't be expecting to play full length movies on this laptop on battery. Nor should you be gaming on battery. In fact, the CPU underclocks to 1.0 Ghz when in battery mode to save power. Even then, I've been able to get something like an hour and a half of battery doing non-intensive tasks. So, basically, keep this baby plugged in, and you'll be happy.
Software
When you order from Mark, you can ask for either Windows XP Pro, or Vista Business, at no extra charge. He also includes CDs for the Nero Burning OEM Suite, as well as Cyberlink's PowerDVD 6. Note that Killer Notebooks includes the real (holographic!) Windows CD with each purchase, so that you can reinstall if you really have/want to.
Other than this, there is no bloatware/advertising that's installed on the computer. It's clean, but remember to install an antivirus before turning on your wifi, or else you'll be spending some time cleaning up your HDD or reinstalling Windows.
Summary
Pros:
- Very good chassis, well built, and solid
- Extremely powerful for a laptop
- Very good looking screen
- Customization options, make your laptop unique
- Decently good speakers
- Keyboard feels great, includes a keypad
- Doesn't come installed with bloatware
Cons:
- Big and heavy
- Low battery life
- The built in camera isn't the best
- Noise when the fans are running full tilt
- Expensive
Author's Opinion
Yes, the laptop's big, heavy, expensive and loud-ish. But it's worth it, that's damn straight. The chassis is top notch, and the customization is great. It really feels like quality. The performance of this mean machine is amazing, to say the least. To be able to play Oblivion at high settings at 1680/1050, on a /laptop/ is sweet, in my books. The laptop also punches out enough firepower to run FEAR maxed out, and at native resolution. Plus, it runs cool!
In terms of customer support, it's phenomenal. Mark will literally respond to you within hours, at any time of day, and he really knows his stuff. He cares about you as a customer, and will do whatever is in his power to make sure that you get the top quality product that you expect. Even if you have financial problems about affording his notebooks, you can discuss this with him, and he will do his best to fit your needs and budget. I recommend Killer Notebooks to anyone who wants to buy a top quality and high performing laptop, from a person who really cares about his customers.
I don't really have any photos of my laptop, but if you want reference images for the chassis, look at the Sting 517D review (it uses the same chassis) found at
http

/www.notebookreview.com/default.asp?newsID=3260&review=WidowPC
, that has lots of pics.