This situation is similar to:
I am looking for a solution to a problem that requires the least amount of equipment. I use a lot of audio in my classroom - from videos, mp3, etc but also students speaking out. The acoustics in the class are awful - many of the students also have very tiny voices, so they cannot be heard. I...
forums.tomsguide.com
I have a few bluetooth speakers that I've collected over the years (mostly gifts).
Since I have all these bluetooth speakers, what I'd like to do is create a surround sound (kind of) system.
I'm not looking for directional sounds or specific sounds to come out from certain speakers.
I'd just like to be able to hear my music from all around.
I've experimented with my phone and it can connect to only 2 devices at once.
I've looked around a bit, and it seems many of the bluetooth transmitters can only do this amount as well.
I understand that buying the same speakers, like the JBL Charge, does allow for this.
However, since they're all different brands and styles, this won't work for me.
I've attached a diagram (a paint masterpiece) as a rough example what I may be looking for.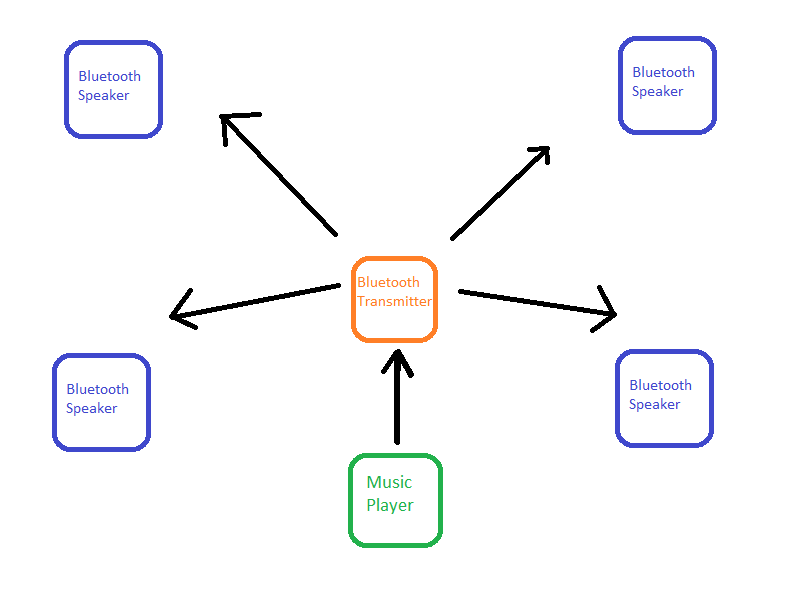 I'll have some sort of music player (phone, computer, etc...) connected to a bluetooth transmitter.
This connection does not have to be bluetooth.
Then the transmitter connects via bluetooth to multiple bluetooth speakers.
I'm open to putting things together and building something up. But nothing too difficult. I do work in IT, but AV is a little out of my realm.
Any help would be greatly appreciated.