Hey everyone, ok, as time has gone by my speakers (like most) have started to get abit of wear of tear in regards to the connection of the wiring in the plugs. I've got a set of Logitech X-620 speakers and i'm going to be replacing the plugs on all three of the cables that plug in to the auction PC itself (not the plugs that go into the subwoofer)
Now I've already ordered and received the replacement plugs, just for the sake of making things easier I have a link to the manufacturers diagram of the part:
http

/www.switchcraft.com/Drawings/35hd_series_cd.pdf

Now here's where my question/concern comes in, when I open up the Logitech cable there's 3 wires (well 4, the standard 2 copper wires but I twist them into one) There's the main Copper Wire, one wire with Red insulation (which i'm led to believe is the right audio) and another wire with Black insulation. (I've included a picture of the replacement plug and the speaker cable, already cut with wires exposed to show what i'm talking about).
Now basically what I need to know (because when it comes to things like this i'm two steps below a noob) is what wire do I solder to each section of the new plug? I can manage the soldering and all that, I just don't want to risk soldering the wrong wires to the wrong parts and causing more strain.
ANY help would be greatly appreciated, as like I said I know little to nothing about audio cable wiring and replacing the plugs, i'm confident that I can manage this, but I just desperately need an "Idiot-proof" explanation to make sure I don't screw anything up.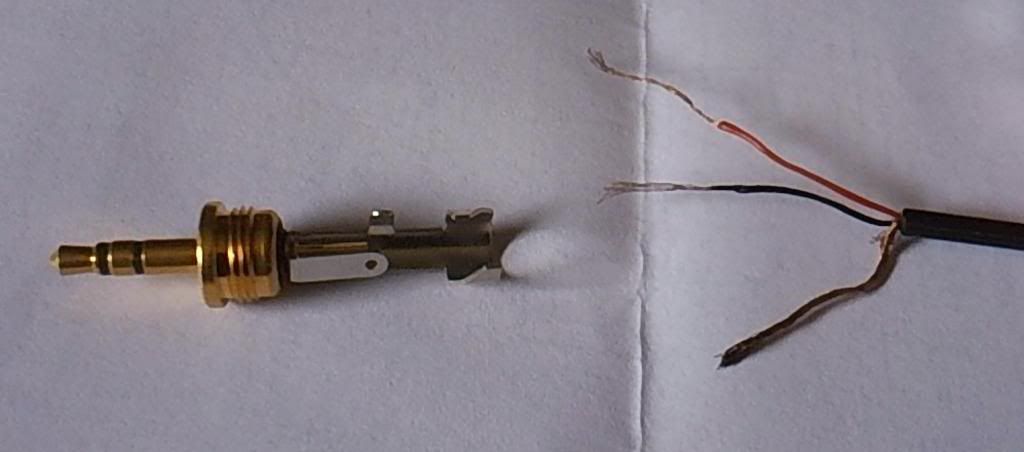 So that's the pic of what i'm looking at, again, ANY simple help (even if you want to just repost the picture with arrows pointing each wire to where it should be soldered, that would be amazing) would be greatly appreciated as i'm really looking forward to getting my full surround sound back

Thanks to any and all who listened
- J. McLean