Hi all,
I am in deep trouble and I badly need your help.
I have just formatted my PC and installed Windows XP SP3. After this, I tried installing Office Enterprise 2007, but windows is generating an error each time. Initially I thought that there was something wrong with my installation CD. I then borrowed an Office Enterprise 2007 CD from a friend and tried installing and again, windows is generating the same error each time.
Please see the 2 pictures below for more details about the error generated: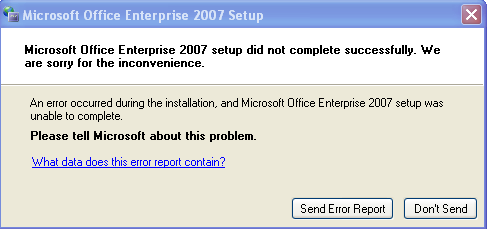 I have formatted my PC and installed Windows XP SP3 a lot of times in the past and each time I installed Office Enterprise 2007, I did not face any problem at all!!
I am 100% sure that there is a solution to the problem but I am not knowledgeable and experienced enough to figure out what is wrong.
Could somebody please help me? Any help would be greatly appreciated. I badly need to use Office on my PC as soon as possible.
Thanks for reading
Regards
Jean Luc